The Fallen Sun
… had me spellbound – it blew my socks off…  — Jyoti Dahiya
A world where the sun never sets; where there is no day and no night; and where shadows never move. Beyond an oasis of light, the freezing outer darkness stretches far away.
In this strange environment we follow the stories of three remarkable young people.
Together, these three must struggle to save their world. And in saving it, they change it and themselves forever.
Here's what Bruce Gillespie, editor of the award-winning critical magazine SF Commentary says about it:
"A real winner… Unputdownable…

I found the characters instantly interesting, and the novel keeps on delivering surprises that undermine one's expectations about the world they live in. And the landscape itself remains very vivid and interesting…

If any novel deserves the top awards in the YA category, it is this one."
The Dark Lighthouse
Forty-three stories of speculation and fantasy by David R. Grigg, exploring the future and the past, the horrific, the humorous, the mysterious, the fantastic, and the merely disturbing.
Awakened from a terrible dream, a young woman strives to avoid a tragedy in real life.
Driving alone through the dark night, a photographer encounters extraordinary reminders of his dead wife.
A teenage boy sees faces everywhere he looks. He is always in the midst of a crowd. An ugly crowd.
A king driven mad by an ancient prophecy forces his queen to live in terror for their unborn child.
An old man, once a famous concert pianist, struggles to survive in a post-apocalyptic world.
Two hikers crossing a moor come across an unexpected and ultimately terrifying obstacle.
An academic dismissed from his position encounters support from a very unusual source.
A wealthy industrialist thinks he has found a way to leave his troubles behind, but has he?
A young woman flees a collapsing civilisation, only to find herself in a harsher world, facing a terrible dilemma.
…these and many other stories will keep you thinking for days.
The Riddling and Other Stories
The Riddling: that's what Britons call the day that their world was pierced full of Holes. Mysterious portals to and from other planets, huge and tiny, appear everywhere, causing chaos. In this midst of this disaster, a father must struggle to help his family escape.
In other stories: augmented reality collides with sordid fact; a snake-oil salesman runs from a nameless horror; two adventurous young men encounter the sole inhabitant of a frozen city; a golden tower conceals a mystery at its heart; and we experience a very different take on the walking dead.
These are but a few of the fascinating short stories and pieces of flash fiction by David R. Grigg contained in this collection.
Storytellers: Tales of Hope, Humour and Heartbreak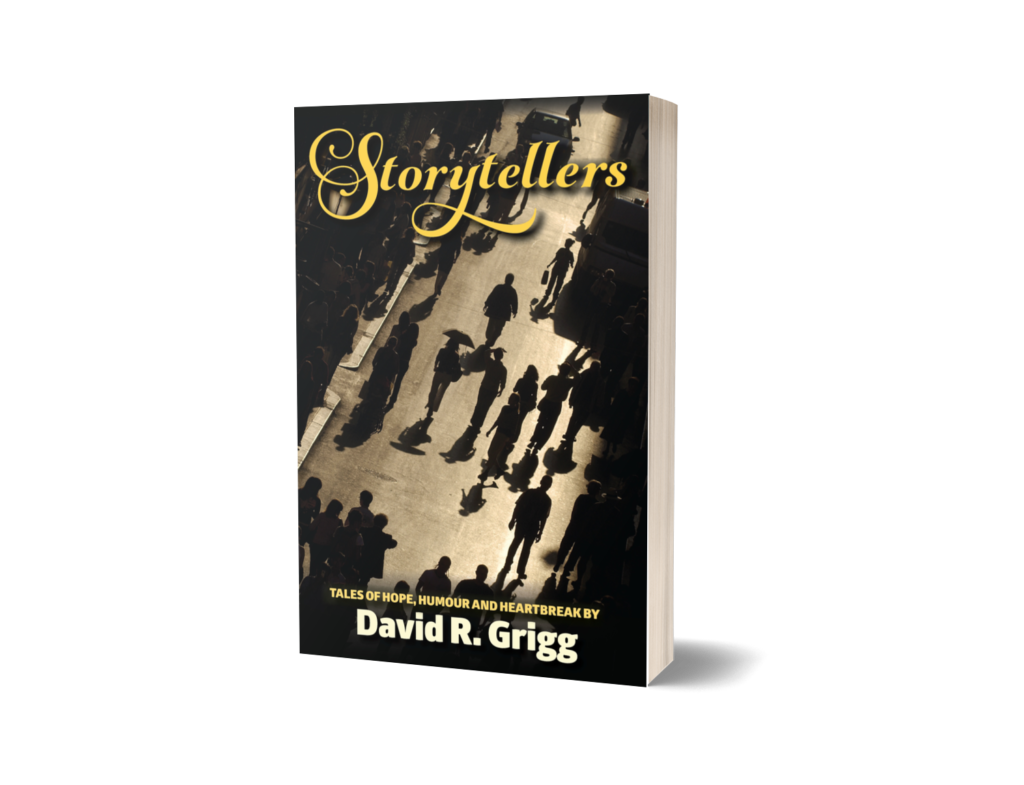 Twenty-five short stories from David R. Grigg, exploring a variety of situations, characters and themes. Each story is charmingly illustrated by Robert Brunton OAM.
An old man struggling to survive on a meagre pension has an unexpected encounter with his past
Two policemen investigating a mysterious disappearance uncover a hidden tragedy
A professional car thief finds he has taken more than he bargained for
A photographer's model inherits his collection, and with it some sad memories
A man contemplating suicide is unexpectedly saved by love
The widow of a soldier strives to overcome her loss and set her child on a safer path
The chance encounters of the passengers on a bus are full of mutual incomprehension
A woodwork teacher is driven mad by his lost love
These and other stories will delight and fascinate you.